Update from New York City
By PhD student Simone Sommer Degn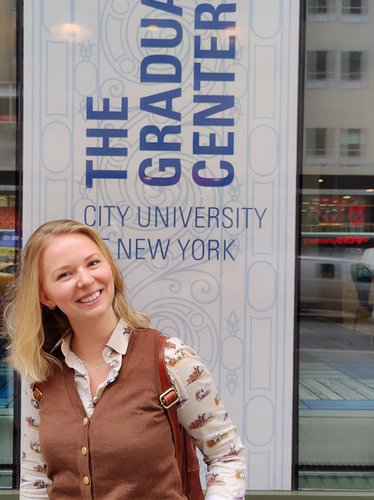 I recently returned from my stay abroad in New York City, kindly hosted by Professor Jesse Prinz. The focus of my stay was to write on my articles and improve my X-Phi skills through the biweekly "X-Phi Lab" at CUNY Graduate Center. I also enjoyed attending the weekly colloquium at the Philosophy Department which was great for getting updated on the newest exciting US philosophical research, and for meeting people in person (much appreciated after years of COVID!)
I had the great opportunity and pleasure to present my current work on discrimination concepts at the X-Phi Lab. In my presentation "Reverse Discrimination: A Conceptual (im)possibility?" I presented my theoretical contribution to the discrimination research literature and my thoughts on a survey design intended to capture the folk concept of "discrimination" and "reverse discrimination". I received very useful feedback and advice from the capable attendees, which I put to use when I re-designed my survey. Attending and presenting at the X-Phi Lab, I am happy to admit, drastically increased the quality of my work. Time away from ordinary life's grind also eased deep reflection and inspired me to write a paper on discrimination in the dating sphere, and I sketched some ideas that I can't wait to work more on.
I also took my time to enjoy NYC life, and many students at CUNY made my visit both fun and interesting. I visited many attractions and lived in Williamsburg, Brooklyn, a lively and young hipster neighborhood. The incredible food scene was just around any corner, high end and dive bars, and tattoo parlors too – always within reach. The diversity of people, bodies and styles on the streets, the irrepressible spirit of NYC, the energy and ambition, and, of course, the talented, open-hearted and bright minded people I met, provide plenty of reasons to anticipate returning.
Academically and personally, my research stay at CUNY was bountiful and as it is so often, in ways I could never have predicted!