WORKSHOP ON PERSONALIZATION
Aarhus, April 3-4 2017. Keynote speakers Marina Costa Lobo and Gideon Rahat presented their work on the importance of party leaders for vote choice and on the link between party decline and personalization. 15 other participants presented their work on personalization, among them Scott Pruysers presented his recent work on personalization as a party strategy in Canada.
NEW PHD STUDENT IN THE GROUP
Marie Kaldahl Nielsen starts as PhD student in RepStyle from September 1st 2016. Marie has written a master thesis on party switching and has great practical experience working in party organizations.
PARTY SWITCHING IN THE DANISH FOLKETING
Ann Møgeltoft Andersen and Marie Kaldahl Nielsen handed in a master thesis based on data collected for RepStyle on party switching in the Danish parliament. They identified 72 switches from 1953 to 2015. Party switching is becoming more frequent but it is still a rare event in Danish politics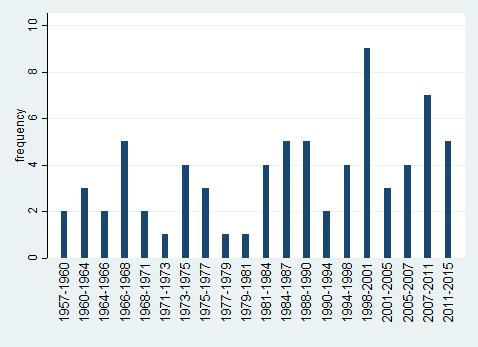 RESEARCH GROUP MEETING
April 18-21 2016 The RepStyle research group had their second workshop to discuss the theoretical model and plan the coming survey. The workshop resulted in a final theoretical model including institutional and individual explanation to personalization.
CALL FOR STUDENT ASSISTANTS
RepStyle seeks one ot two student assistants to handle various assignments. Please find more information on the position here
CALL FOR PHD CANDIDATE
RepStyle advertises for one or more PhD candidates. Find the calls for PhDs here and look for "2015 10 Special call: PhD scholarship in research project on representation in modern democracies (RepStyle)"

RESEARCH GROUP MEETING
November 2-3 2015 Rosie Campbell and Jennifer vanHeerde-Hudson will visit Aarhus University to discuss the conceptualization and measurement of personalized representation. The workshop will result in a plan for data collection in UK as well as Denmark.
PAPER PRESENTATION AT APSA
Helene Helboe Pedersen presented the paper: How is the Personality of MPs Important in a Party Dominated Political System based on survey measures of personality among Danish MPS at the APSA Annual Meeting, September 3-6 2015 in San Francisco.
Read more